Creating a New Assignment
Creating a New Assignment
In Capti, Teachers can create and assign assignments to students. Assignments can be found in the "Playlist" screen, in the sidebar to the right.
Step 1
Create an Empty Assignment
Click on the green "+" button in the top-right corner of the toolbar to open the Assignments interface.
In the Not Started tab: click the red "+" button to add a new assignment
Provide an assignment name and click CREATE. You will be taken to the body of the assignment.
Tip: You can also use a previously created assignment in the Not Started tab or create a copy of an old assignment.
Step 2
Configure the Assignment
Select playlist with reading materials.

If you want students to answer questions in the context of their reading materials then choose the playlist that contains the relevant tracks from a list titled Reading Material.

When students open the assignment they will see a link to the playlist you selected. Clicking the link will open the playlist in the left sidebar. In the example below the student is shown a link to playlist "Global History".

Note: The link will be visible to a student only if you also shared the selected playlist with that student. By sharing the playlist with some students that do the assignment but not others you can differentiate between students that should and shouldn't benefit from access to the reading materials.
Learn more about adding content to Capti

Type the assignment instructions for the students. They will be shown to the students first thing, before the questions.
Step 3
Add Questions to the Assignment
Click the orange "+" button next word "Questions".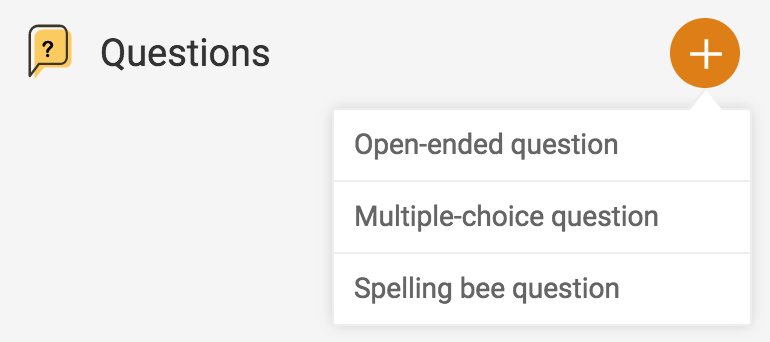 In the question editing screen you can specify the question, the correct answer, number of points for each question, and the language of your question and student's answer.
Click the Add Another… button in the bottom of any question to insert a new question between the current one and the following one.
If you need to create a lot of questions of the same type you can duplicate a question you already created.

First create and configure a template question you would like to duplicate (choose the language, add the necessary number of multiple-choice answers, etc.).
Then click Add Another…, select Duplicate question, type in number of duplicates and click Duplicate. New questions will be inserted between the current and the following question.
Learn more about Capti question types