Creating Assignment from a Document
Creating Assignment from a Document
You may already have a document with an assignment and you don't want to spend time importing the questions into Capti one by one, but you still want to use Capti to distribute the assignment to students. In this case, here is what you do:
Step 1
Create an Empty Assignment in the Sidebar
Click on the green "+" button in the top-right corner of the toolbar to open the Assignments interface.
In the Not Started tab: click the red "+" button to add a new assignment
Provide an assignment name and click CREATE. You will be taken to the body of the assignment.
Tip: You can also use a previously created assignment in the Not Started tab or create a copy of an old assignment.
Step 2
Configure the Assignment in the Sidebar
Find section Reading Materials and choose the playlist from the list.

You can use a playlist you created earlier, or create a new one.

When students open the assignment they will see a link to the playlist you selected. Clicking the link will open the playlist in the left sidebar. In the example below the student is shown a link to playlist "Global History".
Step 3
Add Empty Questions to the Assignment in the Sidebar
Create an empty question per each question in the assignment document. To add a question click the orange "+" button next word "Questions".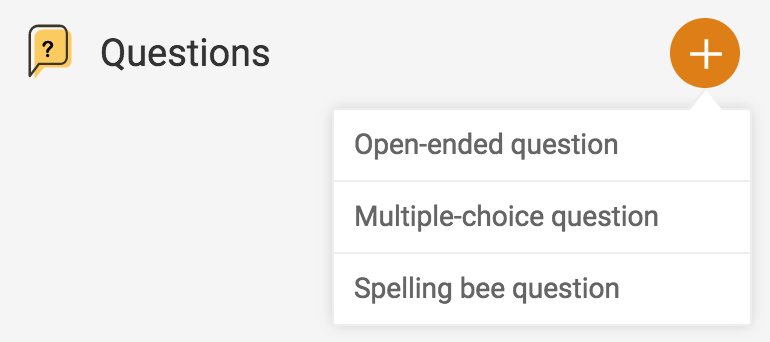 Hint: You can create one question and then make as many copies of it as necessary (remember you are not filling in the question text, only creating stubs). To make copies: open a question, click the Add Another… Duplicate question select how many copies you need and confirm.
Step 4
Add the Assignment Document to a Playlist
Add the document with the assignment into a playlist that you linked to the assignment as explained above.
Share the playlist with the assignment document with the students.